The Methodist Window


The new west window in the narthex tells the "Methodist Story".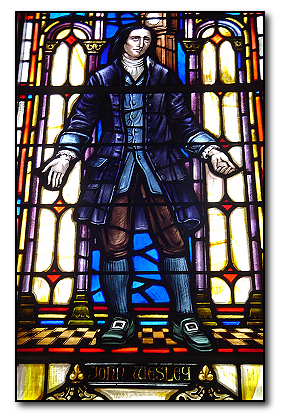 John Wesley (1703-1791) was born at Epworth, England, where his father was a rector of the Church of England, though it seems Wesley's mother, Susannah Wesley, had the profound influence on his life.

"Aldersgate" is a word with special meaning for Methodists, for it was in a small chapel on Aldersgate Street that John Wesley on May 24, 1738 "about a quarter before nine" felt his heart strangely warmed.

The clock illustrated in the window shows "a quarter before nine."


Thomas Coke (1747-1814) was the first bishop of the Methodist Episcopal Church.

Coke was born in Wales and was sent to America by John Wesley. Dr. Coke presided at the famous conference held in Baltimore on Christmas Eve, December 24, 1784.

The purpose of this conference was to decide the future of American Methodism.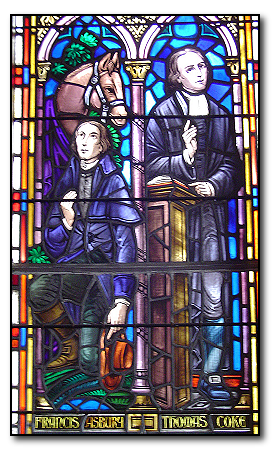 Here it was voted to form the Methodist Episcopal Church.


Francis Asbury (1745-1816) was the second bishop of the Methodist Episcopal Church and was the first to be ordained in the United States.

Asbury was sent by Wesley as a missionary to America, and here he remained after the American Revolution.

Although Francis Asbury was a frail person, he rode many thousands of miles on horseback and spent almost a half-century as "the prophet of the long road."

He outrode Wesley himself, sharing his faith and creating an American Methodist Church independent of England.

The inscription on the base of a statue in Washington, D.C. of Asbury astride a very tired horse states part of the truth about the man: "If you would see the results of his labors, you will find them in our Christian civilization."




>>Back to Stained Glass